Dogger Bank North Sea Electricity Grid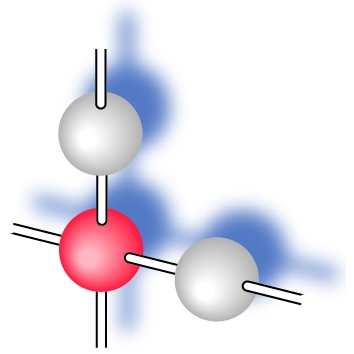 Initiated by Hegeman Water Expertise 2009 - 2017 (2017: all rights reserved)

New plans are presentend this year.
The 2011 plans focus on the importance of the grid and the connections to the national electricity grids.
The 2011 plans concentrate more on the areas where windenergy can be obtained at a low price (Shetlands and Scotland).
It is expected that in the future subsidizing of windenergy will be reduced. More and more off-shore and onshore windenergy is comming online. Is is expected that electricity from wind can compete with other source of electricity. Windturbines in areas with strong winds can produce windpower without the generous governments.
The Dogger Bank network uses wind power, hydropower and gaspower as the main electricity generators. Most infrastructure from the national grids is already there.
Now is the time to get the best of it.

The old january 2009 plans.
Network and Windpark at Dogger Bank

News about windpower
Links to windenergy sites

Plans of Dogger Bank North Sea Electricity Grid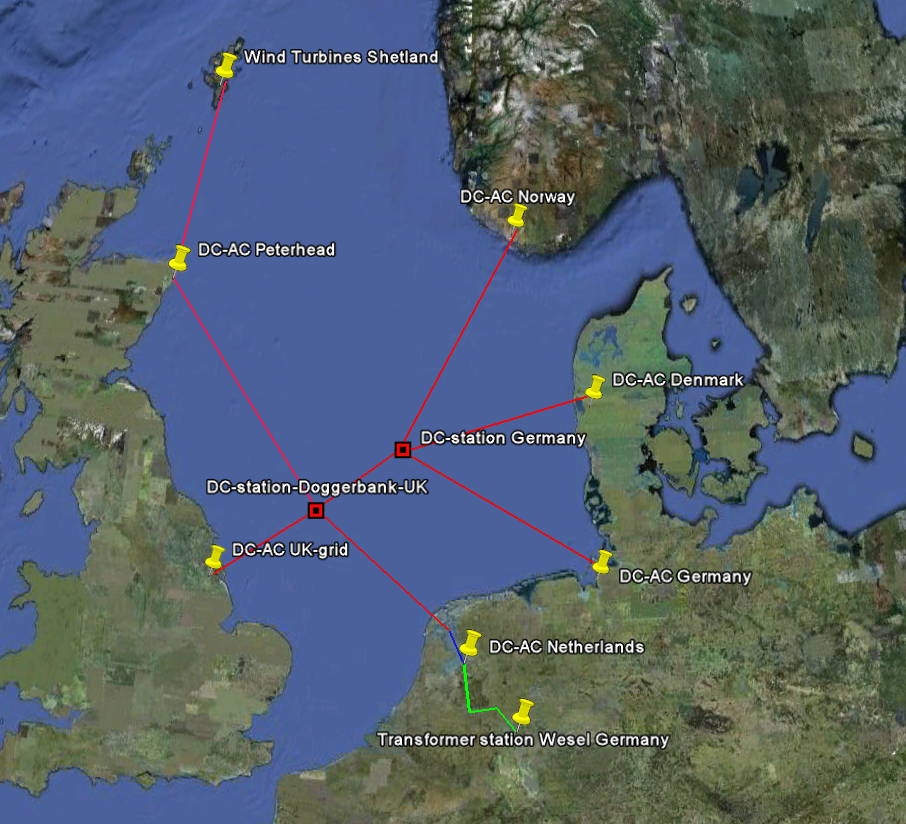 Doggerbank including NorthConnect line.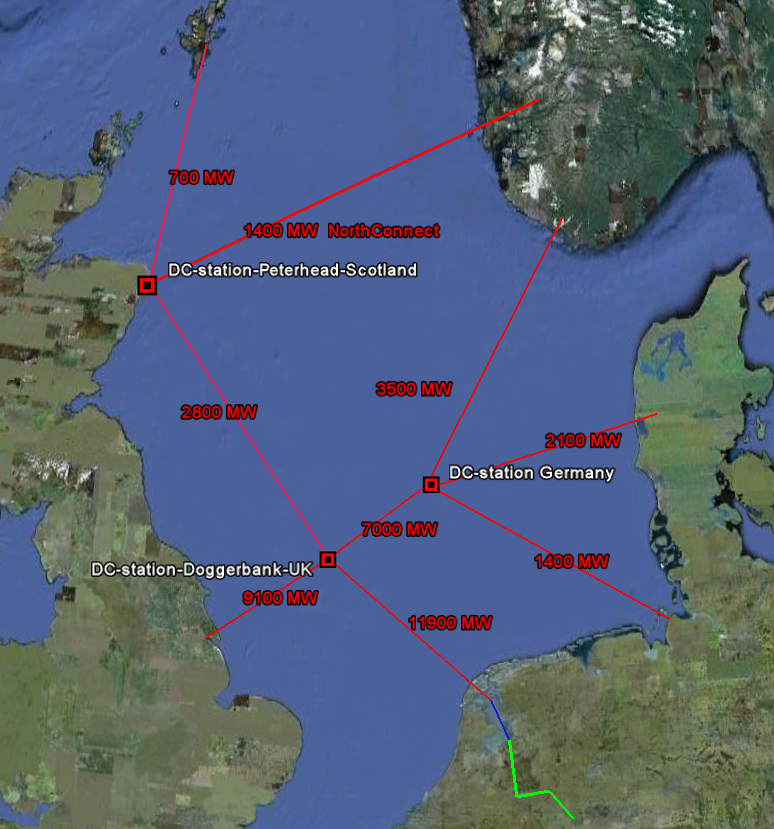 HV-DC cable capacity are derived from multiple 700 MW single lines.
Yellow line are the Exclusieve Economic Zones (EEZ; UNCLOS:Law of the sea) in the North Sea.
Calculations of optimum line capacity should be performed.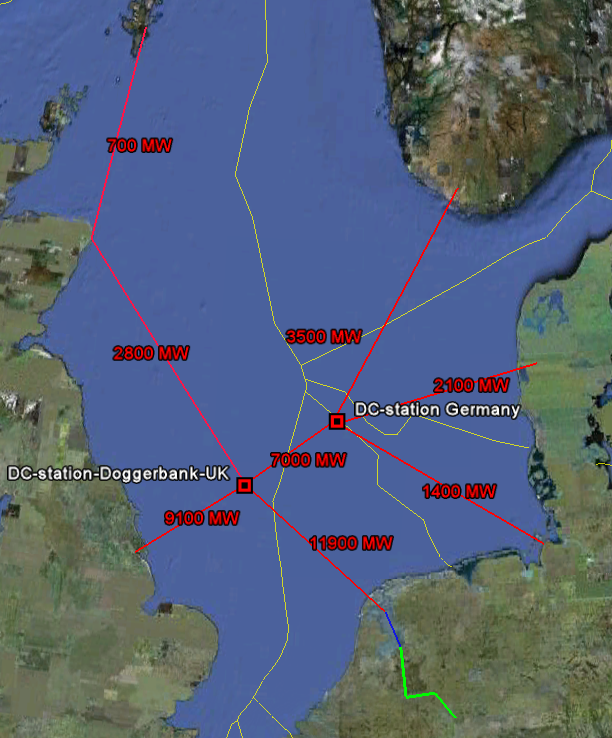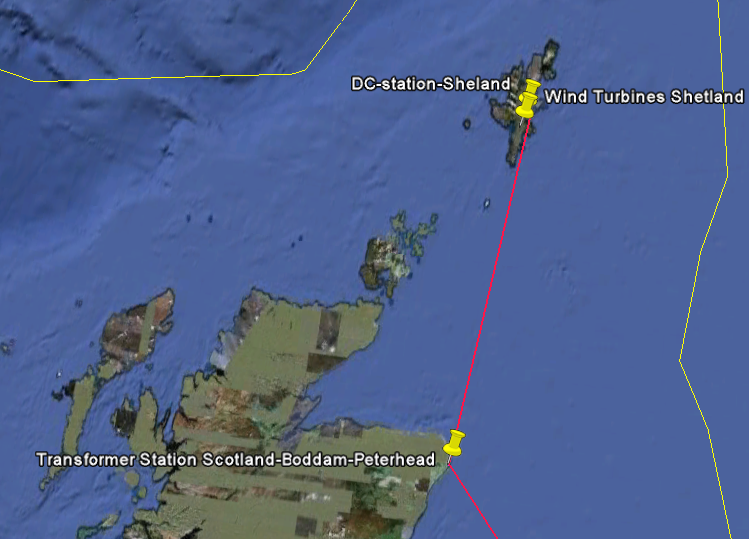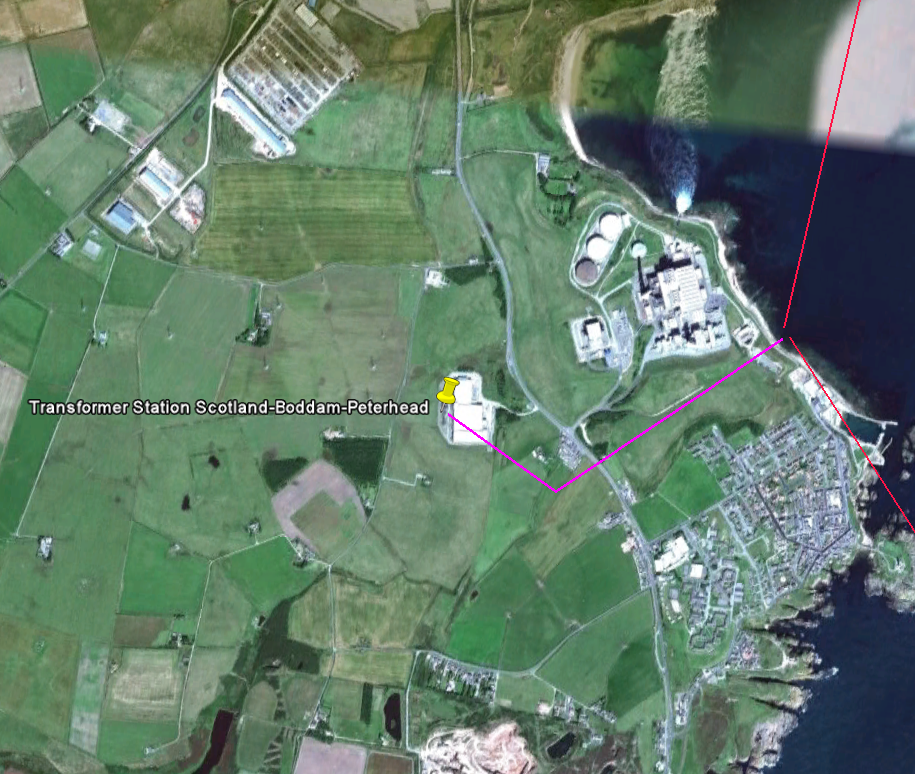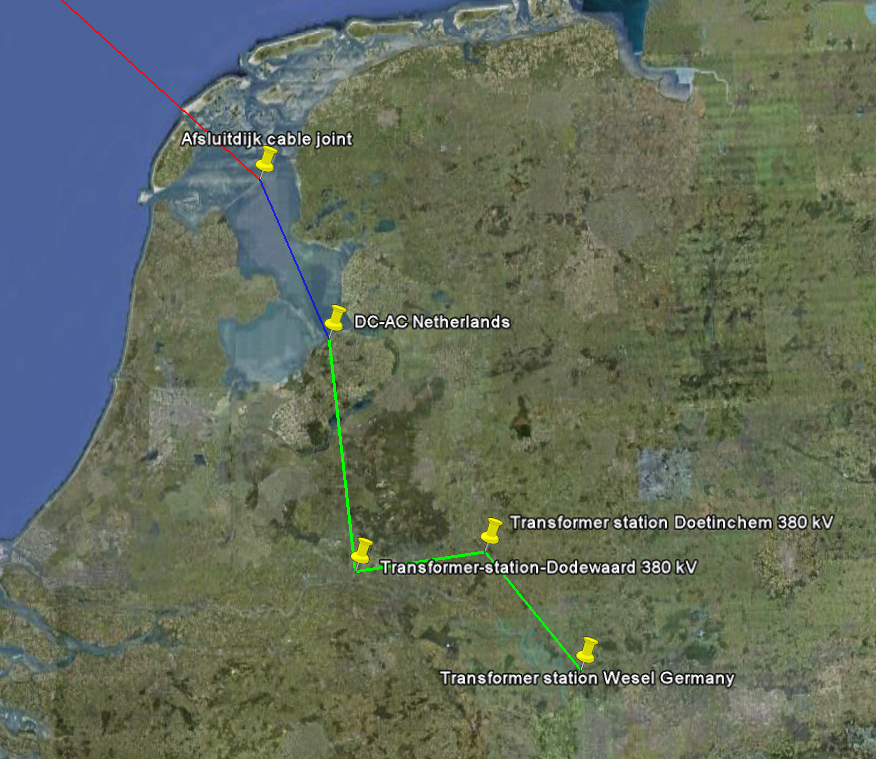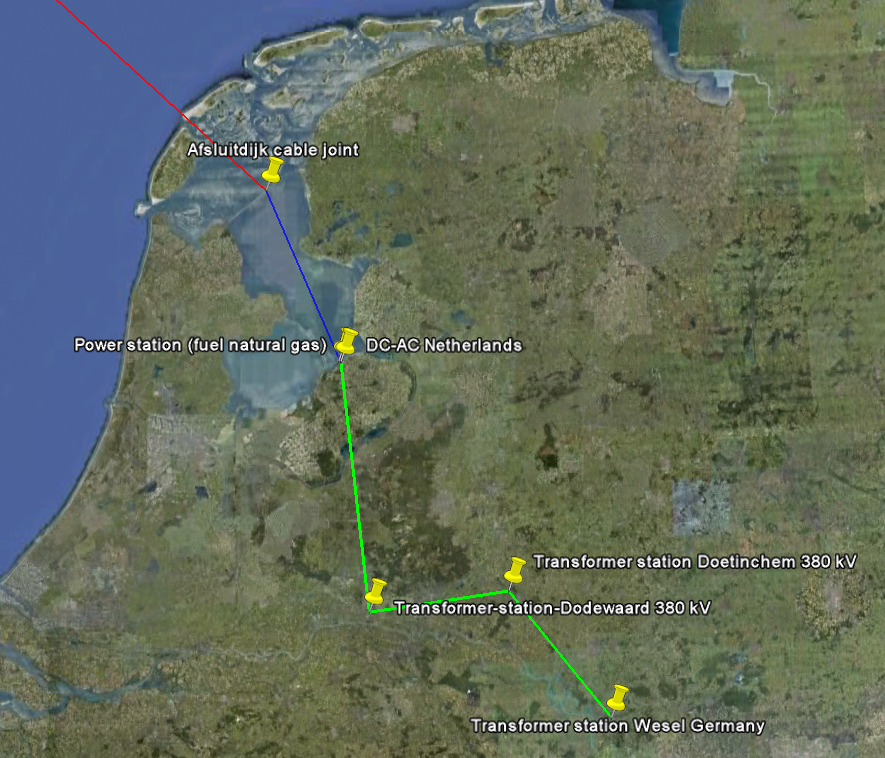 The cable can be joined from the Waddensea towards the IJsselmeer (Lake IJssel, average depth 4 meter) on the dyke (Afsluitdijk; Closure Dyke).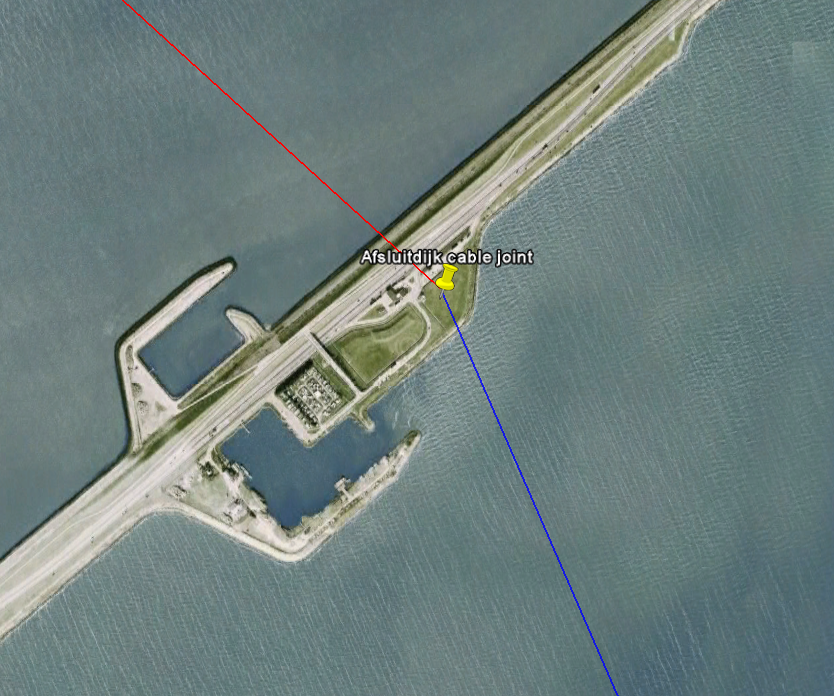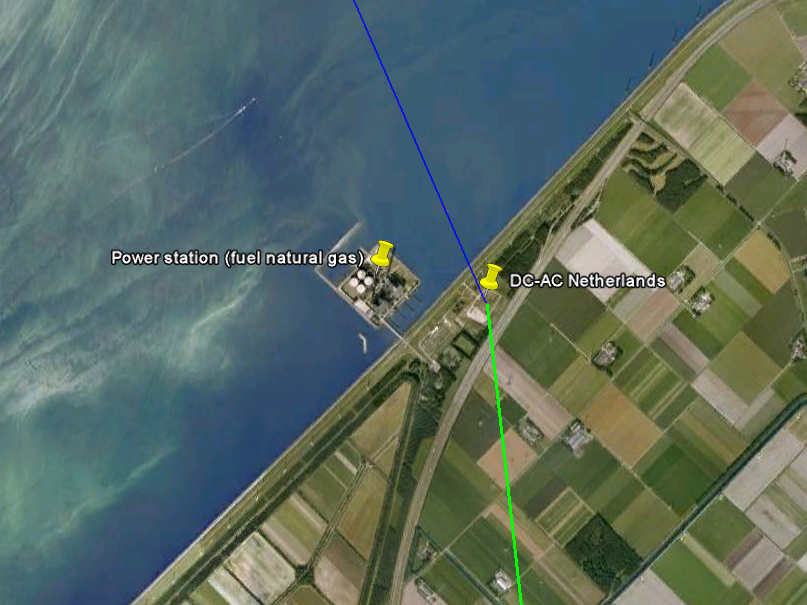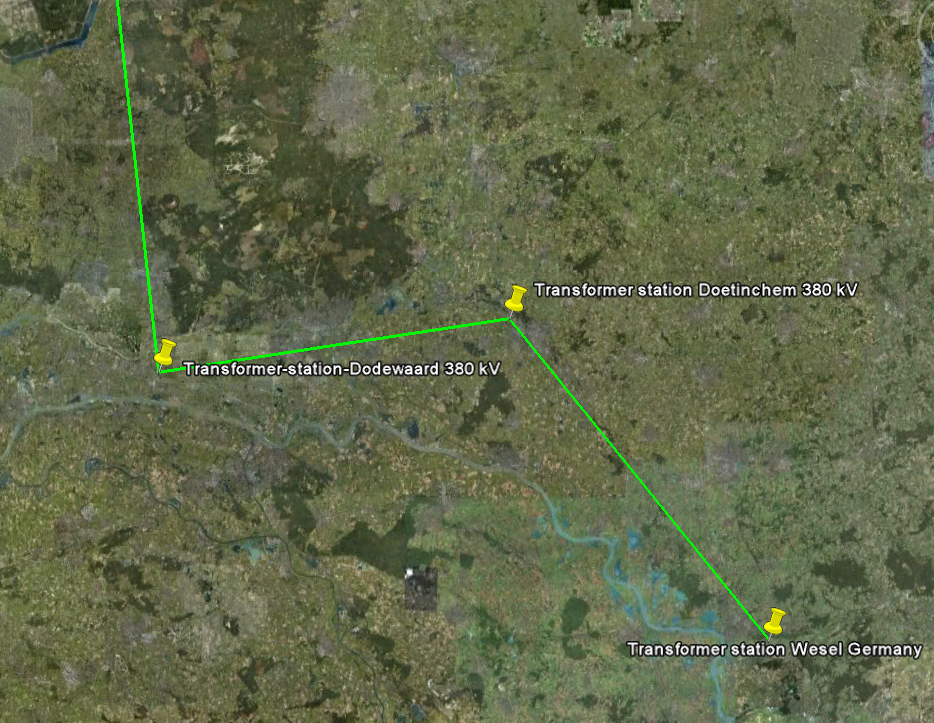 Start Bathymetry animation of the North Sea by clicking the picture (all credits to Carmen Ulmen / KlimaCampus Hamburg, 2008)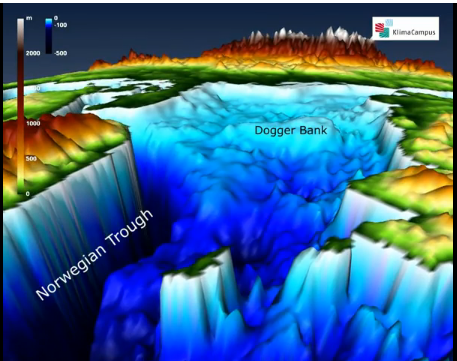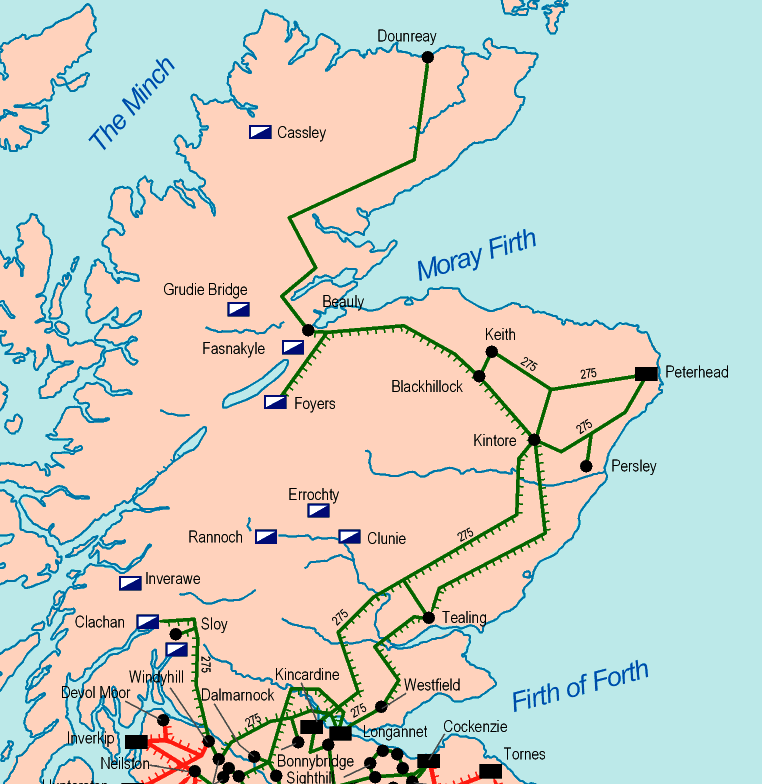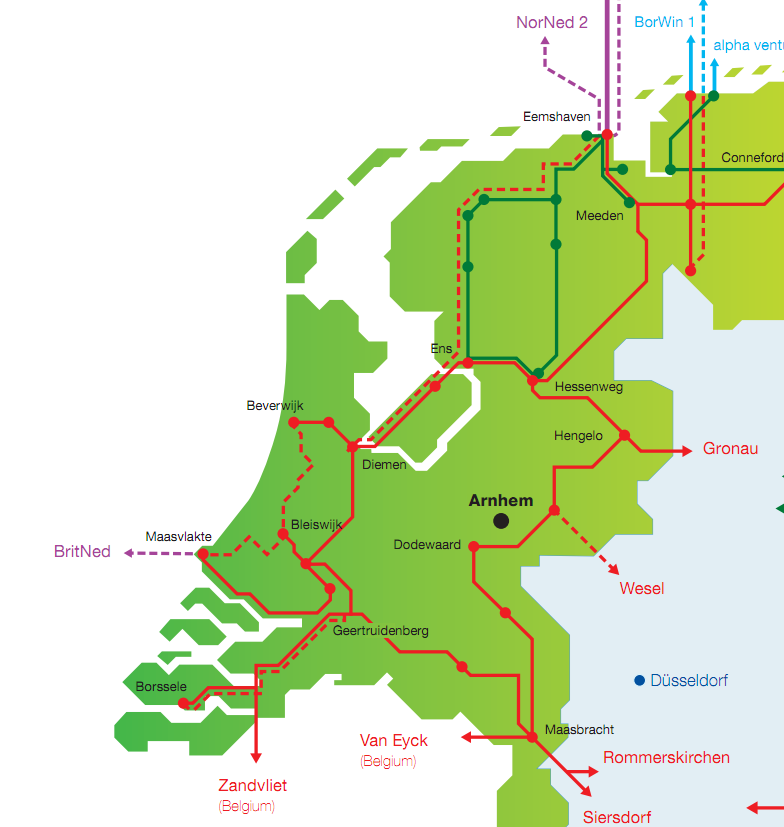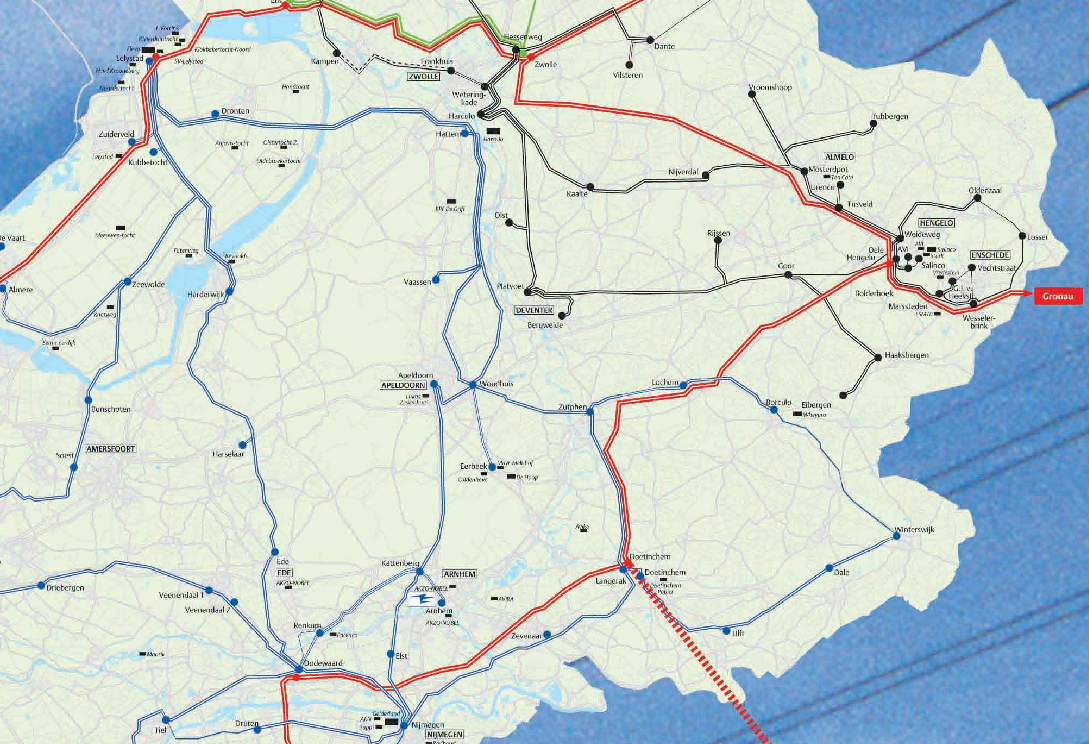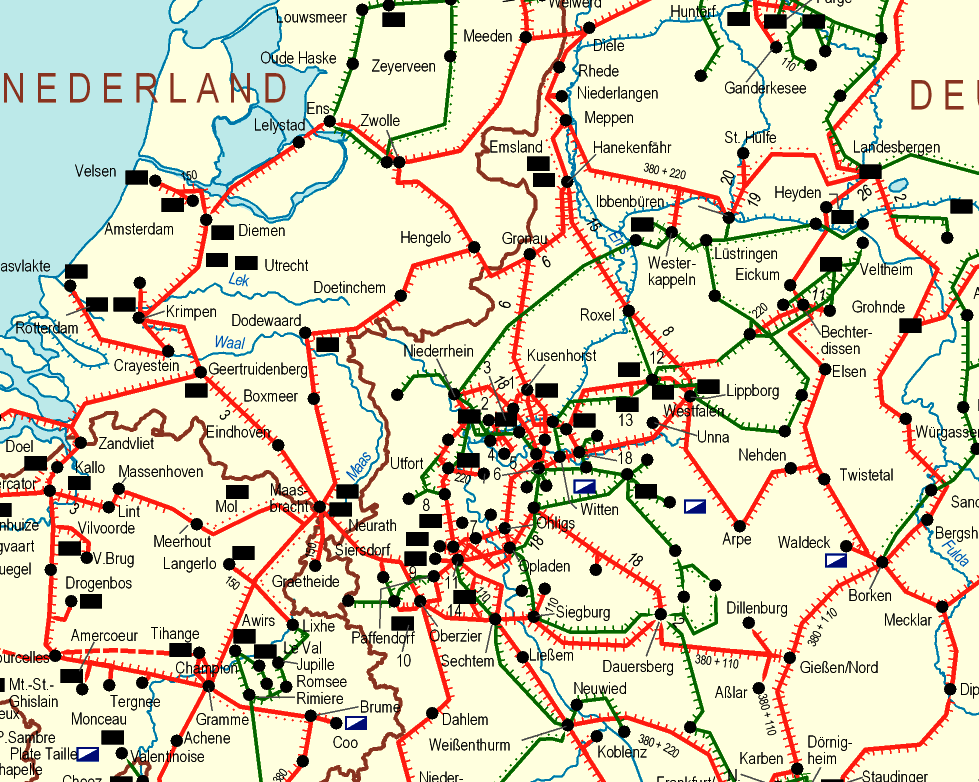 Links to specific sites from United Kingdom, England, Scotland, Norway, Denmark, Germany and The Netherlands.

Forewind
Reports of Forewind devopment at the Dogger Bank

Norway

Norway interconnection Power Flow of Statnett

The Netherlands

Bridnet DC-cable connecting Great Brittan and The Netherlands
New 380 kV AC cable Doetinchem (Netherland)- Wesel (Germany)
Planned HV-DC 700 MW cable Eemshaven (Netherlands) and Endrup (Denmark)
Tennet vision on local network at sea. Connecting the government plans to get 6000 MW from offshore windpower.

Denmark
Strategic energy plans 2010
Denmark Windpark

Germany

United Kingdom

Round 3 The Crown Estate Great Britain
Round 3 The Crown Estate Windenergy
Round 3 The Crown Estate connection study

Shetland Island
Shetland Islands Viking project
Viking Energy windfarm at Shetland
Comment: the total windfarm capacity at the island of Shetland should be extended to 1000 MW in order to get contineous 700 MW through the HV-DC line. The rest of the capacity can be use with smart grid applications on the island itself.

New Zealand
Within a few years New Zealand can be 100 % renewable for electricity generation. Windpower and hydropower will make a perfect match. New Zealand has excelent wind conditions. New Zealand wind farms have an average annual capacity factor of 41%. Tararua Wind Farm in the Manawatu operates at around 46%. Watch what is happening here in the future.
Wind energy is a viable and cost-effective source of electricity


Bathymetry countour of the Dogger Bank. Notice the shallow area of the Dogger Bank.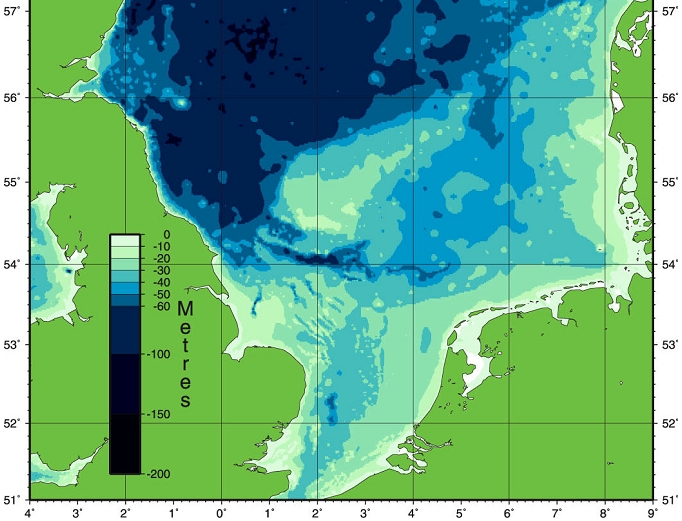 Shape files (GIS Geographic Informatation System) with Round-3 zones from `The Crown Estate and dutch EEZ from Rijkswaterstaat Noordzee.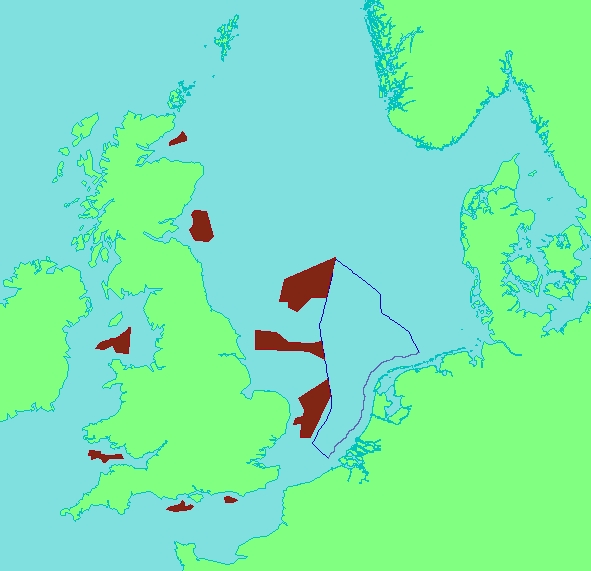 UK-waters

NL-waters

Chart Dogger Bank average windvelocity

European Union documents

European Grid studies

Forewind (all credit the Forewind)
The relative cost of windenergy is proportional the bottom depth (charts below). Steel monopile have depth limitations but can be used for shallow waters. Therefore the shallow waters with high winds are the most profitable.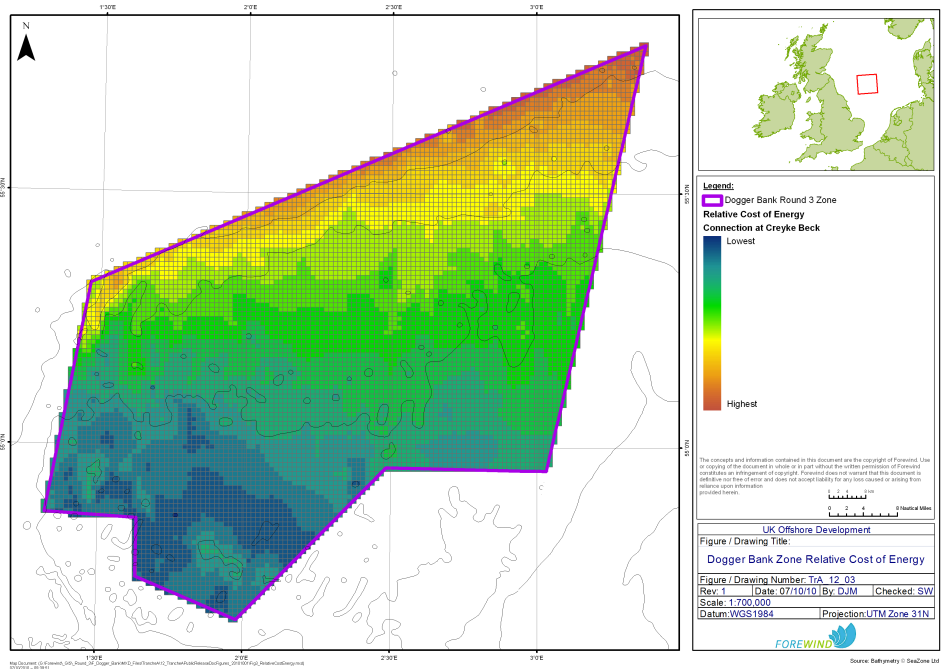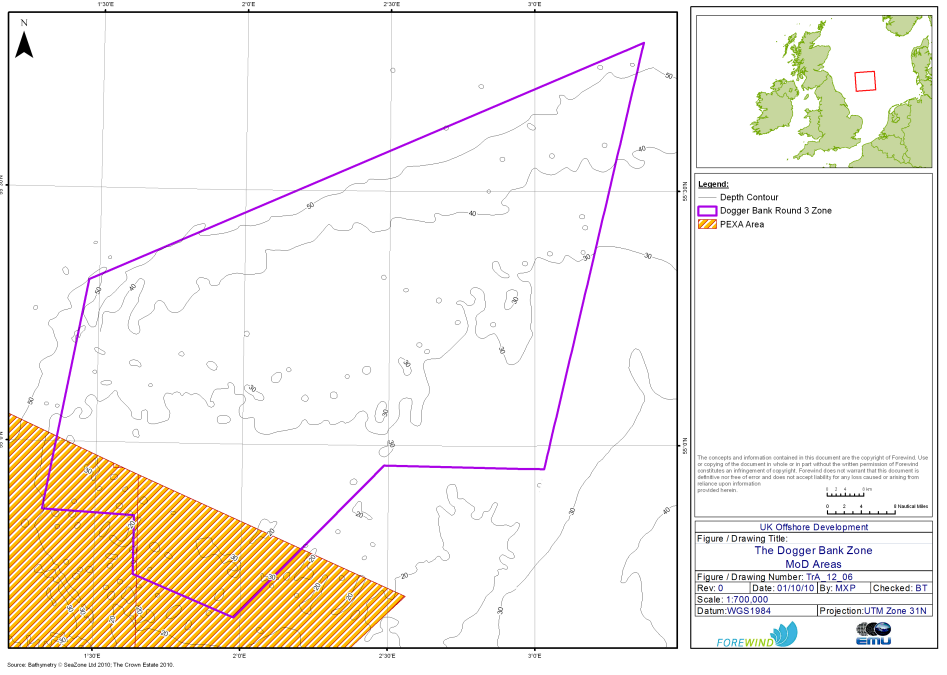 Planning and calculations

Finance organisations

National Organisations related to the EEZ area

Windturbine manufactures

Monopile

Cable laying

Electricity TSO

Links to organisations Click here to go to organisations

Disclaimer Hegeman Water Expertise 2017
All credits to organisations and persons of whom information is used. This site is independent of organisation.
List of credits: Tennet , Statnett , Viking Energy , The Crown Estate , Forewind , KNMI , KlimaCampus Hamburg .